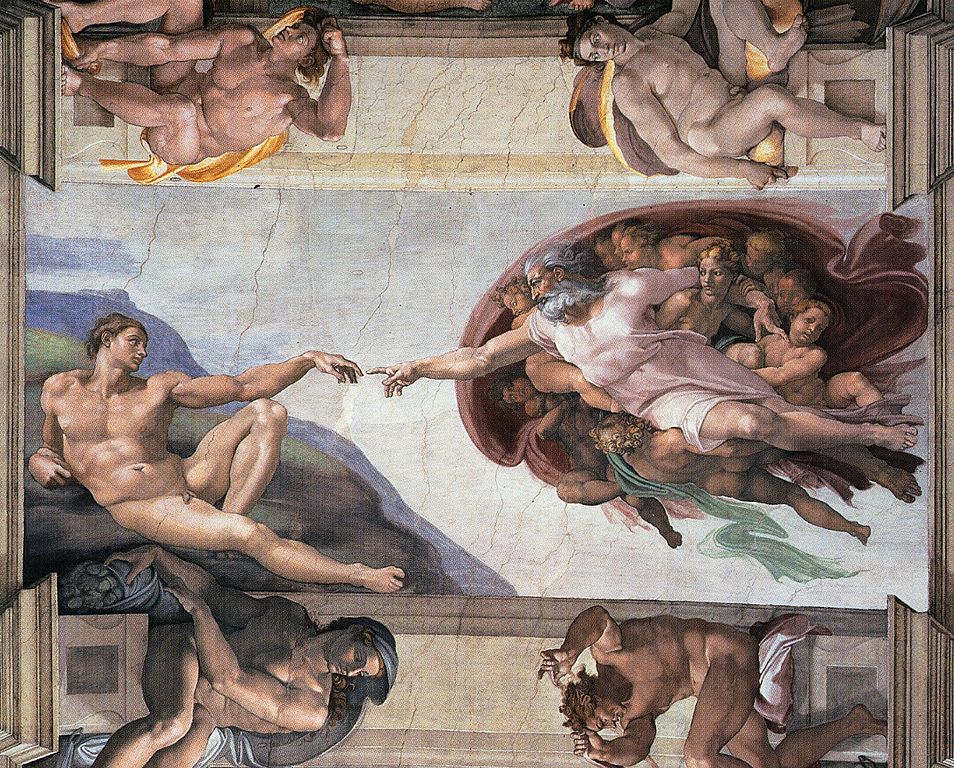 Michelangelo, Creation of Adam, from the ceiling of the Sistine Chapel in the Vatican, Rome, 1508-1512, fresco
Terri and I took part this past week in two beautiful Posadas. One was held in our own neighborhood and led by Padre Fernando, the Pastor of La Merced, and the other was in Chimaltenango, with Padre Miguel and our friend, Deacon Phyllis. Both Posadas acted out the story of Mary and Joseph being turned away from one potential lodging after another and the only place they could find to have the baby was a cave-like stable with some animals.
Both Posadas were filled with faith and song, the Gospel, and lots of people, especially children, and not to mention many fireworks/bombs going off. As the crowd of people passed, many gathered at their door ways to witness Mary, Joseph, and the Child carried by. One lady knelt in her balcony. The whole experience touched many hearts, including my own.
These beautiful expressions of faith and tradition underline what many feel Jesus' coming among us means: the state of our hearts. The whole validity of our religious faith seems to rest upon the lifting up of our hearts which the Christian celebration brings. The liturgy underlines this with its frequent call to "Lift up your hearts!" Sermons, too, usually emphasize this focus on our hearts and opening them up to Jesus' coming into our lives.
But there is another focus that is even more important than the "state of our hearts." Jesus' Incarnation and his teaching and example is meant to change the world. Jesus life reveals his Father's true intention and will for this world:
No one has ever seen God. It is God the only Son, who is close to the Father's heart, who has made him known.
For me this is the key to everything about our faith: Jesus, and Jesus alone, reveals God completely. Before Jesus, people for the most part could form or project their own ideas on God. God, through Moses gave them the Law that was impossible to keep in it's fullness. God would support them in their battles against their enemies- God would himself bring disaster on their enemies. God was an unforgiving Lawgiver and avenger for his people. Still they didn't win every battle, many died due to their unfaithfulness and sin.
But when the fullness of time had come, God sent his Son, born of a woman, born under the law, in order to redeem those who were under the law; so that we might receive adoption as children.
The Incarnation didn't make a cold, uncaring, distant God more accessible. To warm cold hearts. God always wanted to be close to his people and his Creation. God walked with Adam and Eve in the Garden, and The Torah, Law, is all about the relationships of people with their neighbors.
Jesus revealed to us, in his person and teaching, that God is not so much concerned with the state of our hearts, but more concerned what we do with our money and power. Jesus made people in power very uncomfortable. His birth was a threat. He taught a different way of living and was killed for refusing to bow down to the powerful. Like the saying: Jesus came to comfort the afflicted and to afflict the comfortable. Jesus'coming makes a difference. Following Jesus can change the world!
This is why Jesus' coming is so important: he's a radical, life-changing person, a world changing person. He's come among us and is with us still. His followers, with his Spirit, can bring real change in the world. Just imagine if every Christian refused to take up arms against others, lived in mercy and forgiveness for all, even when severely wronged, letting go of every desire for revenge and withdrawing all support for those calling for acts of vengeance and violence toward those who do violence to us. This is what Jesus' Incarnation and life revealed to us about God. There is no personality change between God of the "Old" Testament and the God revealed in Jesus.
No one has ever seen God. It is God the only Son, who is close to the Father's heart, who has made him known.
Did you see the picture of Pope Francis' visit to Jerusalem and his meeting with the Chief Rabbi and Imman? The picture shows the three hugging tightly with heads close, cheeks to cheek. It probably wouldn't have happened if the Christian didn't make the first move. When it comes to peace and merciful relations between the great religions, believers in Jesus will always have to make the first move, risking everything, as long as it takes, continuing this even when the state of our hearts is not the best. Why? Because we believe in Jesus- the difference is Jesus.
Saint Alban Episcopal Mission (English) meets for mass every Sunday at 10:00 A.M. (see welcome letter at sidebar) at Casa Convento Concepcion, 4a Calle Oriente No. 41, Antigua, Guatemala.
5235-6674 cell telephone (502 country code)
THE EPISCOPAL CHURCH WELCOMES EVERYONE