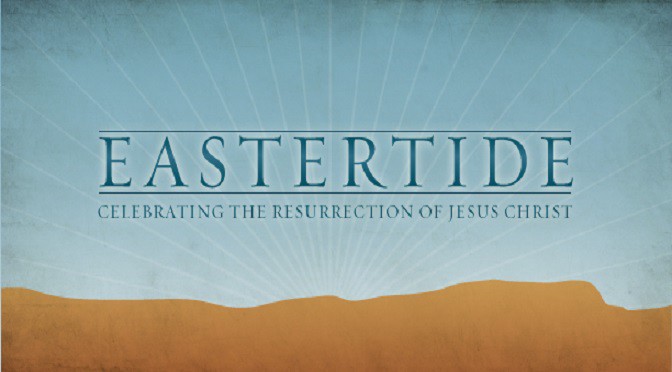 "Visible"
Eastertide, the time between Easter and the Feast of Pentecost is soon coming to an end. We've tried to "tune in" to the Voice of the Risen Jesus (the Victim whose Voice can never be silenced). At first we were most attentive to what Jesus said to his disciples (and us) in his first resurrection appearances, and, in the last few weeks we've been taken back to some of the teachings Jesus gave before his passion and death: two weeks ago on the need for the disciples to love one another, last week the teaching was for the disciples to embrace the peace that Jesus was leaving them, and this Sunday, the teaching to maintain unity among themselves by constant forgiveness and reconciliation.
How have we done in the three areas that Jesus stressed: love, peace, and unity? If we were in school, what grade would the church in its history (and our short part of it)receive in these areas? What do you think? I think probably a "D." Of course there were and are steller disciples, the saints, like Francis, Hermano Pedro, and Mother Teresa, who got all "A" grades (with some personal struggles of course), but the Church as a whole didn't do as well. Over the centuries and in our own day there are those who call themselves Christians who actually despise and hate other Christians. This doesn't help the "Love one another" grade. How about embracing Jesus' peace (as the world cannot give)? How many wars has the Church started or supported over the years and all the death and trampling upon God's gift of Life this "sacred" violence has caused? And what about the "Unity" grade? With over the 26,000 plus denominations currently in existence, many of whom have vowed to never unite or forgive those who they have deemed to have lost their way? This is an example of what Jesus meant when he talked about Satan casting out Satan.
Where's some Good News in all of this? Well, for starters, Satan would like for the Church to have an "F" average and not a "D." Even though we are doing poorly with a "D" the Holy Spirit is still with us, advocating for us against the Accuser, Satan. And the really great thing is we are gathered here today to celebrate the Holy Eucharist, to try to be a Holy Communion, Jesus' number one desire for the world.
The visibility of this Communion is most important. Have you ever said to yourself, looking at all the divisions in the Church, that the "True" Church of God must be invisible? God sees who is really in the "True Church" even when we can't see it clearly. It was a cop out, but many christians have bought into the idea of an Invisible Church: I'll try to be a good christian on my terms, in my denomination, and accept that others are doing the same thing in their denominations, and together we will form the True Church, invisible to the world, but seen by God. So the reasoning goes.
But the whole point of Jesus' final teaching to his disciples is that their unity must be visible, so that the world may believe. This why Jesus left us the Breaking of the Bread, the Holy Eucharist, gathering us to be a visible gathering in this world where everyone is welcome, accepted, forgiven, greeted with peace, and loved. This is Good News. Relish each opportunity to gather with others in thanksgiving to God. This is what Jesus prayed for with his last breath.
Amen!
John+
Saint Alban Episcopal Mission (English) meets for mass every Sunday at 10:00 A.M. (see welcome letter at sidebar) at Casa Convento Concepcion, 4a Calle Oriente No. 41, Antigua, Guatemala.
THE EPISCOPAL CHURCH WELCOMES EVERYONE