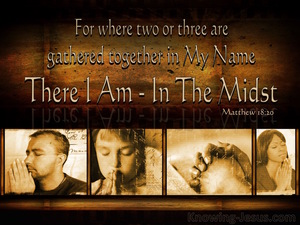 Where two or three gather . . .
Attendance at St Alban's varies from a handful to a roomful, this past Sunday a handful of us gathered to worship and pray to our Heavenly Father. I was grateful for all who contributed to the study of the readings. I was coming off a 24 hour stomach bug that had interfered with my final polish and practice of the day's homily so to be able to discuss rather than preach was a gift. We agreed none of us were singers outside of the shower so we passed on the planned hymns, but i have to say we sounded pretty tuneful as we shared a few verses of "This Little Light of Mine."
We reviewed each of the readings. I offered a few thoughts and each of the worshippers contributed their thoughts and some of their personal history. In particular we spent much time on the First Peter reading who offers blessings to those who suffer for their believes, for righteousness' sake. We talked about those persecuted for their Christian faith in modern times, mostly perpetrated by those who take their Islam to a radicalized extreme, misrepresenting the tenet of Muslim faith. But we recalled the terror that rained down in the Emanuel African Methodist Episcopal Church, Charleston, SC in June, 2015 at the hands of a white supremacist and more recently the vandalized Jewish cemeteries in St. Louis, NYC, and Philadelphia. Terrorism can come from a variety of sources. OpenDoors USA reports each month 322 Christians are killed for their faith, 214 churches or properties are destroyed, and there are 722 acts of violence. While we feel this suffering when it falls comes close to home, countries that experience the most dire consequences as a result of their Christian faith are Somalia, North Korea, Sudan, Afghanistan, Pakistan, Syria, Iran and Iraq.
The gospel offers the great gift of the Advocate Jesus left us as he prepared to return to his Father. I told the story of my childhood imaginary friend, Jeannie, who provided me with companionship, comfort, and sometimes her services as scapegoat. The Holy Spirit is seen by many as the feminine aspect of the triune God. I wanted to be extremely careful not to trivialize the Holy Spirit, but she serves as my/our invisible advisor, companion, support, conscience. She speaks to us though sometimes our listening is not as keen as her message. Each of us shared what the Holy Spirit means to us in our lives and guides our steps. As our discussion progressed, we came back to the two laws we've been given:
Love your God with all your soul, all your heart, all your mind, all your strength.
Love your neighbor as yourself.
We all agreed love is what it all boils down to.
It seems like the glow of our beautiful worship had yet to dim before we were confronted by another example of terrorism, almost a test of will we walk the walk or just talk the talk. A bomb planted in a venue where teens, tweens and many even younger gathered to celebrate a pop idol. The first concert for many, accompanied by parents or loved ones who had purchased the tickets as a holiday gift, the bombing seems especially reprehensible. An act of terrorism perpetrated by suspected radicalized member/s of the Islamic faith determined to promote their misinterpretation by destroying others. I remember a bumper sticker I saw somewhere, "Love your neighbors, ALL your neighbors." How tempted I am to pick and chose which neighbors I will love, which ones are entitled to my love, but that's not what the Bible tells us, over and over again. Not only are we told to love our neighbors, but to pray for our enemies. It's days like these that really puts our claim to be part of in the words of our Presiding Bishop Michael Curry refers to as "The Episcopal Branch of The Jesus Movement" to the test. I ask for your prayers for the victims of the Manchester bombing, their families and loved ones, the first responders, medical staff, and caregivers; as well as those behind this heinous act and all whose lives they touch.
St. Alban
Saint Alban Episcopal Mission (English, Anglican Communion) meets for mass every Sunday at 10:00 A.M. (see welcome letter at sidebar) at Casa Convento Concepcion, 4a Calle Oriente No. 41, Antigua, Guatemala.
Deacon Phyllis Moonogian


THE EPISCOPAL CHURCH WELCOMES EV

ERYONE